Why PVC (Vinyl) is the Durable Roofing Solution
Around the world, and going back decades, billions of square feet of thermoplastic PVC roofing are installed on commercial buildings in diverse climates. It is a durable roofing material that has proven performance to withstand thermal cycles, wind loads, structural movement and temperature extremes.
PVC roofing membranes are constructed of a flexible, tear- and water-resistant polymer reinforced with fiberglass non-woven mats or polyester woven scrims. These roofing components ensure PVC's dimensional stability, durability, and capacity to respond to a building's normal expansion and contraction and resiliency challenges.
PVC: The Go-To Material for a Durable, Sustainable and Long-Lasting Roof
Hear a veteran roofing consultant talk about his reasons for choosing PVC for the roof of the University of Iowa's Carver-Hawkeye Arena, including its durability, recyclability and watertight abilities in even the most challenging weather conditions.
WHAT MAKES PVC SO DURABLE?
HEAT-WELDED SEAMS – The heat-welded seams of thermoplastic PVC form a permanent, watertight bond that is stronger than the roofing membrane itself. This is a major advantage over commercial roofing systems that rely on adhesives, tapes and caulks to seal the seams.
WATERTIGHT MEMBRANE – PVC roofing membranes have been used successfully in waterproofing applications for more than 30 years. They are manufactured to remain watertight in extreme conditions, including constant dampness, ponding water, high and low alkaline conditions and exposure to plant roots, fungi and bacteria.
MEETS OR EXCEEDS WIND UPLIFT REQUIREMENTS – Properly designed PVC roofing systems provide durability and can meet or exceed the wind uplift requirements needed to obtain FM approvals. Many membranes have survived the onslaught of hurricanes, and can be designed specifically for storm-prone climates.
References & News
PVC Durability News
DURABILITY RESEARCH FINDS VINYL ROOFING RANKS HIGH AMONG COMMON MATERIALS IN AGING COMPARISONS
Download full document

 [26.1 KB]
VINYL ROOFING SYSTEMS: QUESTIONS ANSWERED
Read the full article here
MEETING ROOFING NEEDS – VINYL ADDRESSES A RANGE OF ROOFING REQUIREMENTS
Download full document

 [580 KB]
Sustainability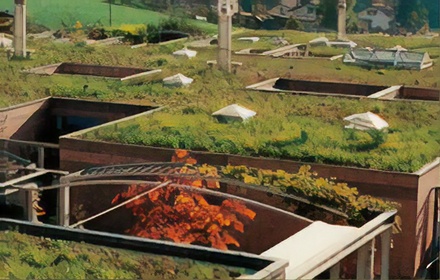 Aesthetics